(Edited by Tom McSorley)
Download Rivers of Time as PDF.
Published by the Canadian Film Institute, 2008. All rights reserved.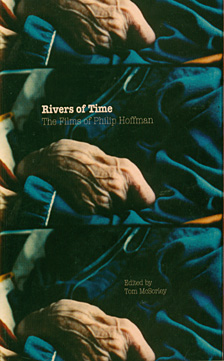 The lake is calm, like a great sheet of ice.
In the middle, between the beach and the far shore,
has surfaced a large finely textured brick,
its sharp edges shaped by the rising sun.
Beneath the scene, a voice:

I like wrecked bricks, the points pierce my eyes, sending me hurling in space.
I revisited this curious post-adolescent site in 1989 after the completion of an initial cycle of excavations. Formal experiments on super-8 using the single-frame-zoom, which splayed the surround of the filmed subjects, squeezing out their ghosts. After seven years of collect, reflect, revise this form found its place in the film `Chimera', and the power of its pull lead me into dark gardens of loss. In Mark Doty's words:
What these ashes wanted, I felt sure,
Was not containment but participation.
Not an enclosure of memory,
But the world.'
These films are a circle of stones. Embedded in each is the world, reaching deeply into the past, rolling on..
— Philip Hoffman, Circling Stones, Spring 2008
---
Contents
Phil
MIKE HOOLBOOM
On Philip Hoffman
ANDRE LOISELLE
Thawing Phil Hoffman's Freeze-up (1979)
RICK HANCOX
Tales of Hoffman (Expected Time of Arrival)
SCOTT BIRDWISE
I know you are, so what am I?: 25 passing through/torn formations
CHRIS ROBINSON
Kitchener-Berlin as Aesthetic Allegory
JAMES MISSEN
Kitchener-Berlin
PENNY MCCANN
Time Sweeping Space
TOM MCSORLEY
Experiments in Disorientation: Chimera
CHRISTOPHER ROHDE
Travelling Companions
TOM MCSORLEY
Interview
Philip Hoffman Filmmography 1978-2008
Contributors
---
Download Rivers of Time as PDF.