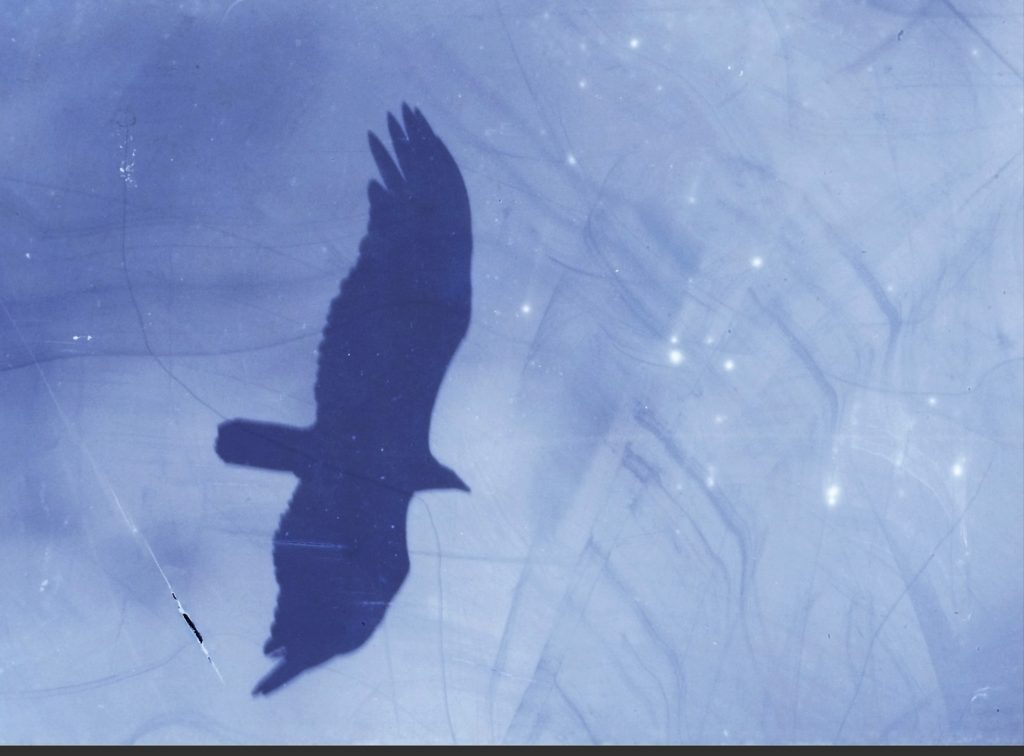 (16mm, B&W, COLOR, Conventional & Flower/Plant Hand-Processed to Digital, 57 MIN., 2019)
Live SoundVersion is possible 
by Philip Hoffman
Direction & Camera: Philip Hoffman
Edit and Sound Mix: Isiah Medina & Philip Hoffman                          
Sound: Clint Enns, tones/originating music​ by Luca Santilli and Kennedy
`vulture' sets its sight on farm animals and their surrounding flora. Static shots and slow moving zooms, follow the grazing animals in their minute inter-species exchanges. When left to roam together the sensibilities of these "beasts" are allowed to surface.
The film was shot and processed with various means including flower/plant processing carried out as blooming occurred, from 2016-18,.  In some cases a salt bath was used for fixing the film which was left soaking in the dark for 3 days.
Vultures hover over the barn, from high, with razor sharp eyesight, and a keen sense of smell. Together, they stalk and share their decaying sustenance. Intense acid in their stomach allows them to digest great quantities of their dead prey, without falling ill.
Awards
vulture received the Kodak Cinematic Award at the Ann Arbor Film Festival (World Premiere) 2019
Reviews & Articles
Desist Film (S8) MOSTRA DE CINEMA PERIFÉRICO 2018
(excerpt, in progress test version screened 2018)
by Mónica Delgado
In Hoffman's Vulture (work in progress) the farm is the space for the recording of different animals, cows, horses, chickens or pigs, in a suggestive harmony and symbiosis, however, this apparent harmonic ecosystem exists due to the absence of man, who isn't interrupting this tranquility. In this context, the filmmaker, as the vulture of the title, is capturing (via slow zooms and panoramic shots) or waiting for the bursts which reveal this interaction of the animals in pseudo freedom: a cow nursing a pig, roosters and chickens looking for seeds in the woods, or horses riding in slow motion. But Hoffman doesn't stay in the tale or naturalistic description, but instead confronts this gaze with the "performances" of the animals, with the scarce presence of farmers, and then with the work on crops free from animals to watch over. If this is indeed a non-finished work, the nobleness of a work like Vulture lies in its choosing of a point of view, where the filmmaker's function is clear, as a watcher of this uncommunicated fauna, but also in the process that is patented in several parts of the film, where he goes from a use of "clean" celluloid to the contaminated (decayed) texture of flower-developed film, which gives the frame a closer touch with the absorption of the environment… In Vulture's last minutes, Hoffman adds an appendix which has a different rhythm in its editing, executed by filmmaker Isaiah Medina…This ending subverts the initial bet (flow) to finally return with a significant shot (explosion) and a perfect epilogue, of children in a farm separated from goats by a fence.
(S8) MOSTRA DE CINEMA PERIFÉRICO 2018: SLAUGHTERHOUSE AND VULTURE (WORK IN PROGRESS) BY PHILIP HOFFMAN