(16mm, 32 minutes, 1998)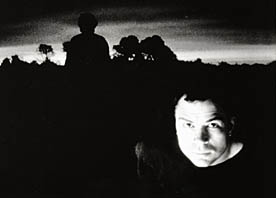 Destroying Angel is an experimental documentary that relates two stories of illness, and weaves them into a filmic tapestry of family history, memory and loss. The narrator, confronted with his own mortality, guides us through a landscape of recollections, dreams, close friendships and family ties. Narratives about present day events interplay with lyrical reminiscences of the past. Eventually, just as the past always informs the present, the two styles of narrative begin to merge. In the end, we are left with a moving portrait of the struggles involved in dealing with AIDS, cancer, memory and intimate relationships.
What was clear from the onset, was that Wayne and I would make a film together. We fell into the project by accident. On his first visit to the farm we shot a few rolls of film which were hand processed. The project took off from there, and after three years and several manifestations the film has found its form. Working in several format, without a pre conceived script, allowed us to bring in freely snapshots of the past and present. This enabled us to change directions, and integrate into the film our passions, discoveries and misfortunes as the inexorable process of life rolled on. (Phil Hoffman)
Destroying Angel is a moving picture of how, through remembering, the destructive duo of oppression and illness, can be healed and brought into the sacred.
AWARDS
Best Experimental, Athens International Film and Video Festival
Best Experimental, Chicago Lesbian & Gay Film Festival – 1998
Best Documentary, Oshawa/Durham Independent Film Festival – 1998
Best Doc, The University of Portland Queer Film Festival – 1998
REVIEWS & ARTICLES
Destroying Angel: An Interview with Wayne Salazar and Philip Hoffman by Barbara Mainguy, Point of View
Proposal for Destroying Angel by Philip Hoffman in collaboration with Wayne Salazar Aug. 1995
DISTRIBUTION
Canadian Filmmakers' Distribution Centre
401 Richmond St. W., Suite 119
Toronto, Ontario, Canada M5V 3A8
416-588-0725
bookings@cfmdc.org
www.cfmdc.org
Canyon Cinema
145 Ninth St. #260
San Francisco, CA, USA. 94103
415-626-2255
films@canyoncinema.com
www.canyoncinema.com